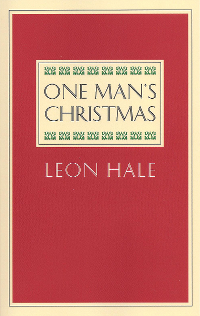 New copies in stores October 15! Get yours personalized!
After its sell-out reception last season, the softcover edition of ONE MAN'S CHRISTMAS makes its re-appearance this fall in time for holiday giving.
Originally published in 1984 by Shearer Publishing, OMC has been expanded with two brand new stories and new illustrations (by Ken Meuzenmayer) in a 5x8-inch format perfect for casual gifts.
For his customers who would like a copy personalized for gift-giving, the Copper Shade Tree in Round Top (info@coppershadetree.com; 979-249-4127) will take your order and mail your books, or have them available for pickup. CTS has a selection of his other books, too.
In Houston, Brazos Bookstore (brazos@brazosbookstore.com; 713-523-0701) will take your online orders and have them signed for pickup in the store. They will also mail books.
In addition, Leon Hale will be signing books in person at the following locations:

Sun, Oct 23 — Becker's Books, 3:00 pm, 7405 Westview Dr., Houston, (713) 957-8088
Thurs, Nov 10 — Katy Budget Books, 1:00 pm, 2450 Fry Rd., Houston, 77084, (281) 578-7770
Sat, Nov 19 — Copper Shade Tree, 12:00 noon, Henkel Square, Round Top, (979) 249-4127
Sat, Dec 3 — Barnes and Noble, Baybrook, 2:00 pm, 1029 W. Bay Area Blvd., Webster, (281) 554-8224
Sat, Dec 17 — Barnes and Noble, Champions, 1:00 pm, 5303 FM 1960 West, Houston, (281) 631-0681
OMC will be available after October 15.
Order a Copy


Winedale Publishing now has eight of Leon Hale's books in print and available at your local bookstore or online through www.winedalebooks.com. They may also be ordered at www.amazon.com.
OLD FRIENDS, stories of common experience transformed into little treasures of human observation, told in Hale's signature graceful prose.
TURN SOUTH AT THE SECOND BRIDGE, a Texas classic that records a vanished world of colorful regional characters. His first book.
SUPPER TIME, a delicious remembrance of food, friends and loved ones. Regional bestseller.
HOME SPUN, his second delightful collection of Houston Chronicle columns. Regional bestseller.
ADDISON, his second, award-winning novel that tells the story of a flawed hero and the love of his life.
PAPER HERO, his award-winning memoir of growing up during the Great Depression in Texas.
EASY GOING, the last collection of columns from his days at The Houston Post.
BONNEY'S PLACE, the classic novel of a Texas beer joint.
Click here to order or read a complete backlist of Leon Hale titles.